Summer Solstice
NOW thru Labor Day - Summer Yoga at 28th Street Beach, begins 8:30 am every morning until
Labor Day. Weather permitting and Donation only.
---------------------
August Events and Workshops THIS WEEK!​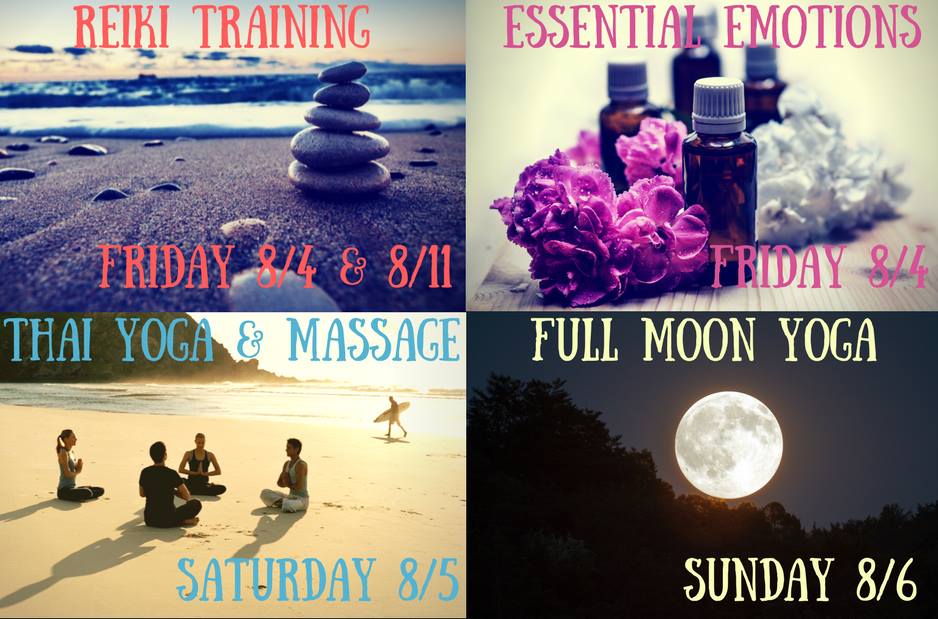 Reiki Training, Sessions I & II - with Malia
8/4 (Friday) and 8/11 (Friday) from 10:00 am-1:00 pm
Please eat light before the trainings and refrain from using any recreational mind altering substances the night before in order to be clear and receive the Reiki, continue with any prescribed medications. Bring a snack for the break. To sign up call the Island Wellness Center to reserve your spot. $99.00.
Essential Emotions Yoga - with Malia and Sue
8/4 (Friday) from 6:00 pm - 5:30 pm
Would you like to be happier, connected and empowered? Come learn and experience how essential oils can support you into emotional well being, chakra balancing, Thai Chi movement and meditation. Sample oils and and even snacks prepared with essential oils! Win a prize in the raffle and bring a friend! $25.00 or $10.00 if you use your Yoga Bohemia class pass. REGISTER at Yoga Bohemia (yogabohemia@gmail.com).
Thai Yoga and Massage Workshop - with Malia
8/5 (Saturday) from 3:30 pm - 5:30 pm
Invite your partner or come join us yourself to experience fun, rhythmic massage and acu-pressure. Learn how to do assisted yoga postures. Learn how to give and receive an introductory Thai yoga healing massage on a mat on the floor, wearing comfortable clothing. Anyone can attend, as well as yoga instructors or body workers. Laughter guaranteed. Benefits include: Relief of pain, tension and stress, Increase flexibility and range of motion, deep relaxation and a peaceful state of mind. Please hydrate several hours before, empty stomach is suggested, refrain from wearing fragrances. $25.00 or $10.00 if you use your Yoga Bohemia class pass. $40.00 per couple! ;) REGISTER at Yoga Bohemia (yogabohemia@gmail.com).
Kundalini Meditation
Full Moon Kundalini Yoga with Suzanne
8/6 (Sunday) on 28th Street Beach - 7:30 pm
Participants learn Meditation with Mantra, mudra-hand positions, and the Art of the Sacred Sound. Chanting Meditations helps balance the chakras, cultivate connection with the creative consciousness, and open the heart center. Through this practice one is relaxed, refreshed, and connected to their true inner wisdom. The repetition of the Mantra with mudra helps balance the mind and has the power to change negative patterns of temperament. This practice helps us heal as individuals but can also help cultivate a more enlightened world. I believe bringing the Art of Mantra and Meditation to a mainstream audience and making this ancient practice accessible to everyone can create World Peace. You need no experience with any sort of Yoga or Meditation to practice.
Full Moon Yoga and Meditation with Malia
9/3 (Sunday) at 28th Street Beach 7:00 pm - 8:15 pm
The full moon represents the subconscious mind. Our bodies are more than 70% water and the full moon not only affects the tides of the ocean, but the tide in us. Malia will lead the meditation for healing and gentle yoga in the sand. Come and enjoy the full moon and create an intention for whatever you are ready to manifest in your life. Weather permitting. Donation only. Namaste!

Learn, Love & Grow