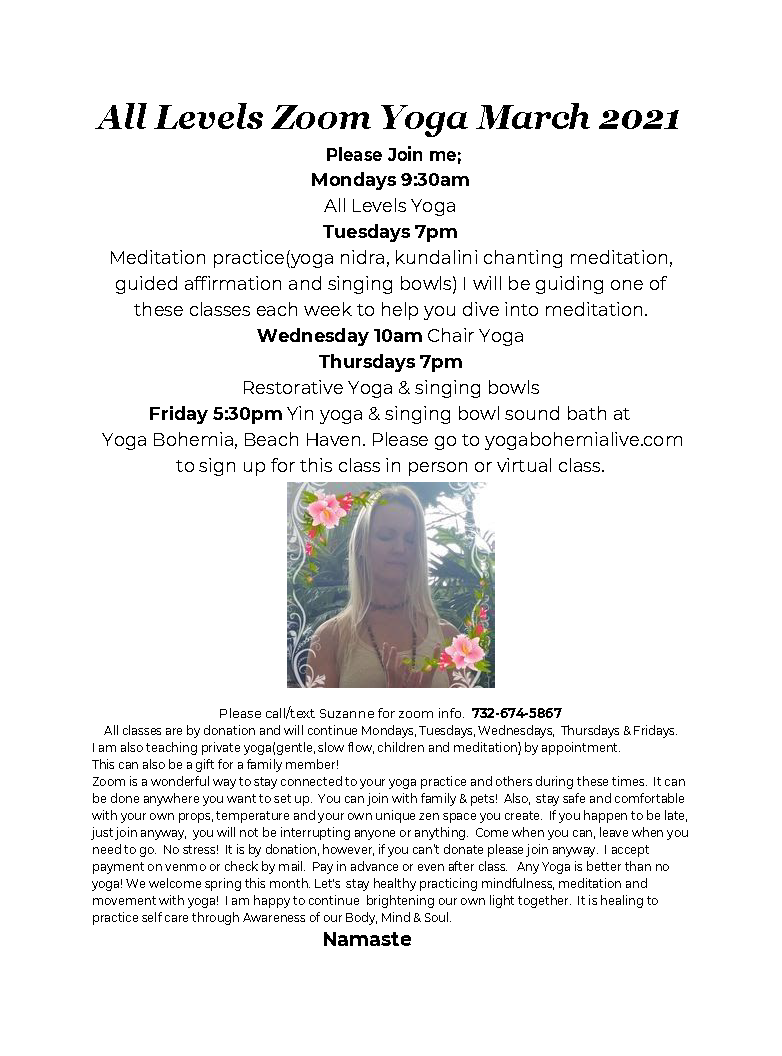 ​These practices will all include yoga, pranayama & meditation.
Please Join me. Call for zoom information.
All classes are by donation and will continue Mondays, Tuesdays & Thursdays.
Wednesdays in March
10am Beginner gentle yoga and meditation on line
Chair based and standing movements for those who have injuries or surgery or who just want to learn beginner yoga. All are welcome. Connect on Suzanne's personal zoom ID, Donation only.

Fridays in March
5:30pm Yin/RestorativeYoga and Crystal Bowl Meditation @ Yoga Bohemia in the Beach Haven studio or online
Please register for this class only at yogabohemialive.com
Just reach out and I will send you the link to the class.
I am also teaching private yoga (gentle, slow flow, children and meditation) by appointment. This can also be a gift for a family member!
Zoom is a wonderful way to stay connected to your yoga practice and others during these times. It can be done anywhere you set up, join with family & pets! You can stay safe and comfortable with your own props, temperature and your own unique zen space you create. If you happen to be late, just join you will not be interrupting anyone or anything. Come when you can, leave when you need to go. No stress! It is by donation and I accept payment on venmo or check by mail. Pay in advance or even after class. If you cannot donate please join us. Any Yoga is better than no yoga! Lastly, during the cold months stay inside and stay healthy with yoga!
Let's continue to brighten our own light together.
It is healing to practice self care through Awareness of our Body, Mind & Soul.
Namaste,
Please call/text Suzanne