POSTPONED UNTIL 2018
KEEP CHECKING FOR UPDATES,
MORE TO COME!!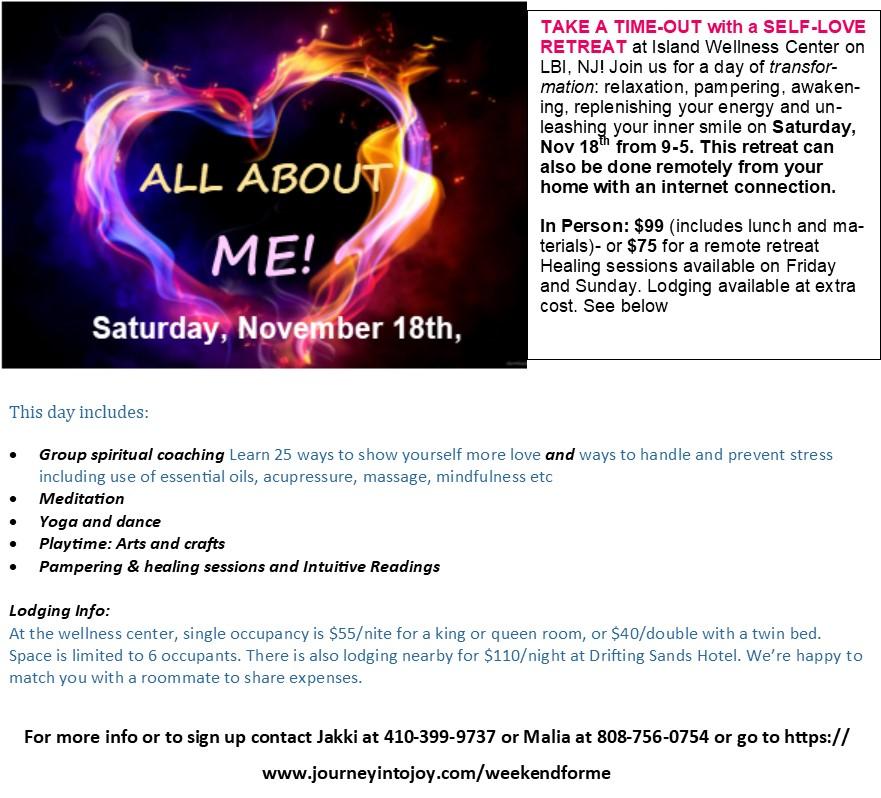 Take some time for yourself at our upcoming retreat!
Join us for a day to relax, replenish your energy, release stress and restore
your inner smile. Utilize the energy of the number 17 (see more below) with a
SELF-LOVE retreat at the Island Wellness Center!
This weekend includes:
Group Spiritual Coaching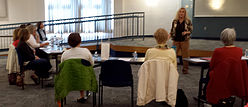 Including group sessions to learn:
25 ways to show yourself more love
About the law of attraction and getting what you want
How to stand in your power
Communication skills
Discussion on relationships
Ways to handle and prevent stress including use of essential oils, acupressure, massage, mindfulness etc.
Meditation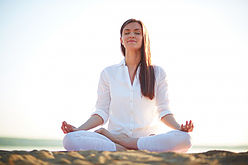 Aimed to deeply relax and quiet the mind, our meditations will be a chakra
balancing session with essential oils and a heart opening meditation to access the
heart's desires and intuition.
Yoga and dance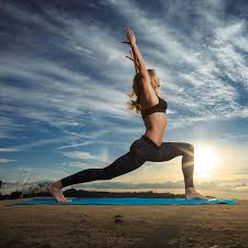 We will do a mixture of yoga and chi gong to wake up energy and
personal power. If weather permits, we may do this on the beach.
To loosen the joints and explore how our own bodies move and feel a sense of
freedom with the Soul Dance.
Playtime: Arts and crafts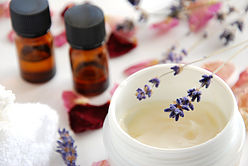 You will have the opportunity to make your own custom aromatherapy
product, a bead bracelet to remember the weekend and vision boards. We may even
have a paint party. It all depends on group consensus.
Relaxation time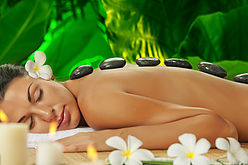 Opportunity to receive treatments, go for a
walk on the beach, journal etc.
Therapeutic Massage
Available by appointment

Massage/ bodywork sessions may include: swedish, deep tissue, Jin Shin Do, craniosacral therapy, reiki, hot stone massage, cellulite massage, facials. You may also pair this with a body scrub, seaweed body masque, dry body brushing, sea salt and essential oil bath or steam sauna done right on the table (it's wonderful!). These treatments must be reserved in advance.
‌Option 1: 1 hour massage/bodywork session + body scrub, hot towels and rinse off or + steam sauna= 90 min= $100
Option 2: Body scrub or masque, steam sauna, 30 min massage= 90 min= $ 100
Option 3: Body scrub or masque, bath or steam sauna, 30 min massage= 90 min= $ 85
Option 4: 1 hour massage/bodywork combo (dry brushing optional)= $ 75 Add bath+ $10
Option 5: 90 minute massage/bodywork combo (dry brushing optional)= $ 120
Option 6: 30 minute massage/bodywork= $40
Option 7: 45 minute massage/bodywork= $ 60
Intuitive Readings & Coaching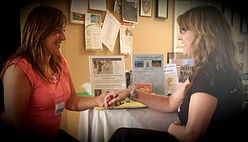 Customized aromatherapy: get a custom blend for your personal physical or emotional needs.: $45
Intuitive reading: get a reading to explore what is going on with someone close to you or for yourself. For a reading of another person, please bring a picture of them. This typically take 20-30 min.: $20
Spiritual counseling: one-one session to explore the deeper sources of your challenges and find resolution. $55/ 1 hour
Significance of NUMBER 17
taken from Joanne Walmsley Sacred Scribes
Insight, responsibility, self-discipline, strength, compassion, spiritual consciousness, wisdom, a desire for peace and love for all of humanity.

The number 17 is a highly spiritual number and has been expressed by the Ancient Chaldeans as the 8 Pointed Star of Venus. It is the Star of Love and Peace and promises a 17 person the will to rise superior in spirit to the trials and difficulties of earlier life.
Number 17 is a combination of the vibrations and attributes of the number 1 and Number 7. Number 1 relates to new beginnings, motivation and progress, individuality, self-leadership and assertiveness, achievement and success. Number 7 resonates with the energies of spiritual awakening and enlightenment, mysticism and psychic abilities,
inner-wisdom, manifesting your desires and good fortune. The number 17 is an auspicious number as it embodies the 'new' with manifesting good fortune. Remember to be grateful for all that the Universe provides.
ANGEL NUMBER 17
Angel Number 17 indicates that your angels want you to know that you are on the 'right path' on your life's journey. The angels support and encourage you with your Divine life purpose and soul mission, and you have good reason to be optimistic about your chosen direction or path.
Angel Number 17 is a message encouraging you to listen to your intuition and higher-self and take appropriate action as only you can serve your soul purpose and fulfill your destiny. The angels encourage you to maintain a positive attitude and use positive affirmations in order to manifest your highest ideals and aspirations.
Angel Number 17 can also suggest that it is time to begin (or expand) a spiritually-based practice, career and/or profession or heart-based service. The Universe and angels will ensure that all that you require will be provided for you, and you are to trust your own inner-wisdom, skills and abilities. Use your talents to serve humanity and bring illumination to those who seek it.
In person:
A Day Retreat - $99.00
Includes lunch and Materials
or
Remote Retreat Session:
Saturday - $75.00

Lunch, snacks and all materials are included in the price.
Treatments may be paid for on the day of the event, but best to reserve in advance.
Lodging Info:
We are offering lodging at the Island Wellness Center, single occupancy is $55/night for a king or queen room, or $40/double with a twin bed. Space is limited to 6 occupants, so please reserve in advance. There is also lodging nearby for $110/night at Drifting Sands Hotel. We're happy to match you with a roommate to share expenses.
All treatments, workshops, and yoga will be provided by Jakki Gioia and Malia Murphy. For more information about Jakki you can visit her webpage and see her biohere or see her work on her YouTube Channel here. Malia's bio is available on the IWC website here.
JOIN US and Do something FUN for YOU!
Don't want to pay online? Call Jakki at (410) 399-9737 or the Island Wellness Center to arrange payment.Click Here and Register