FEBRUARY 2021
YOGA CLASSES WITH MALIA

Yoga classes offered on-line, to sign up go to: yogabohemialive.com or

Join us in the studio @ Yoga Bohemia,
2-20th Street, North Beach Haven
With safety precautions of six feet apart and masked to mat,
When on mat you may take off the mask
- - - - - - - -
May you all receive strength, courage, faith, hope, health
and peace in our New Year of 2021
Please reach out to us and let us know
How you are doing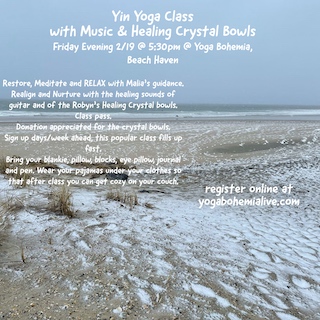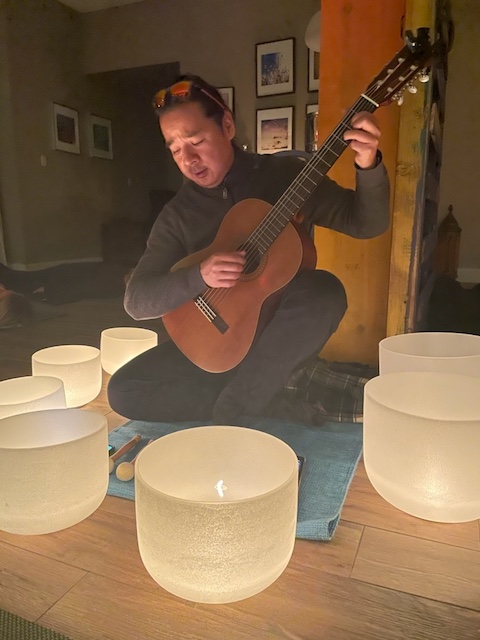 Yin flow Yoga Classes with Malia
Focus on 4 Archetypal Families
Thursdays 9:30am - 2/18, 2/25
Yin allows you to create the ability to cultivate the present moment, to begin to feel at ease in the stillness. To breath and hang out in the uncomfortable stuck places in the mind and fascia of the body, starts the awareness and the dialogue between the body and mind.
Learn how to let go of the fight or flight or FREEZE caught in the nervous system and feel safe to melt the Freeze and RELAX and Feel a sense of FREEdom.

2/18 Dragon Family
Creates warmth and release in the hip flexors, psoas and creates elongation and more mobility in the hips.

2/25 Twist Family
Focus on the lateral fascial line of the body anchoring the lower body and upper body to create flexibility in the spine, rib cage and hips.
- - - - - - - - - -
Pajama Party
Fridays 5:30pm
Yin/Restorative
Stretch deeply, Restore, Meditate and RELAX with Malia's guidance.
Realign and Nurture with the healing sound of the Crystal bowls meditation with Robyn and his guitar and Healing Crystal Bowls.
Class pass.
Donation appreciated for the crystal bowls.
Sign up a week ahead, this popular class fills up fast.
Bring your blankie, pillow, blocks, eye pillow, journal and pen.
Wear your pajamas under your clothes so that after class you can get cozy on your couch.

Tuesdays Gentle Yoga with MALIA at 9:30am
Gentle Stretching, yoga postures, breathing techniques to quiet the mind and relaxing meditation.

Sign up at yogabohemialive.com for Tuesday, Thursday and Friday classes are held with mindful precautions and limited amount of students to be 6ft away and the Mask to Mat is enforced in the Studio at
Yoga Bohemia, 2- 20th Street, Beach Haven or on-line and practice in your own home.
Island Wellness Wednesdays
10am Beginner Gentle Yoga with Malia on-line only with Malia's personal zoom account.
Zoom#Meeting ID : 576-208-7777
Call Malia for Passcode
Class is for beginners or for those who are beginning yoga again after being away.
Also geared for those students who need to be mindful because of injuries or surgeries and can modify the postures doing chair based yoga.
Have a solid chair, pillow or block, strap or scarf and water to drink.
Donation only for Island Wellness Center.
Feel free to call Malia at
Island Wellness 609-492-4906

May you all receive the gift of health,
happiness, prosperity
and peace Always
Namaste