Healing Sessions with
Barbara J. Woolley, MSW (ret)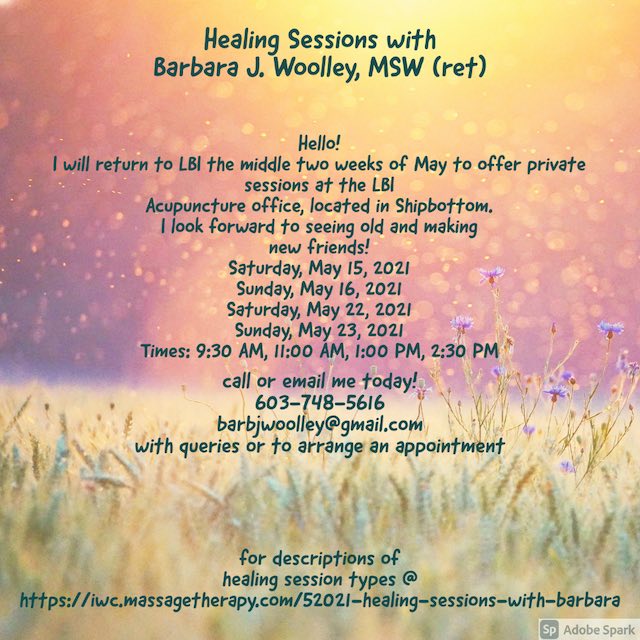 Below is a synopsis of the work I will offer
In Gratitude,
Barb Woolley
https://iwc.massagetherapy.com/52021-healing-sessions-with-barbara
- - - - - - - - - - - - - - - - - - - - - - - - - - -
Healing Practices
REIKI
Reiki emerged in Japan with Dr. Mikao Usui, a Buddhist monk and seeker of ways to self-heal. His first clinic was established in Tokyo in 1922. Offered hands on, hands off, or through absentee (distance healing), Reiki is deeply relaxing. It also can help you step out of the busyness of everyday life, release emotions, body aches and thoughts that have become burdensome. The practitioner is a conduit for the universal life force energy that is Reiki. Intelligent, the energy knows how to be of service to you in a gentle, soothing manner. Sessions last 1 hour. All sessions are conducted with the recipient fully clothed. Reiki is non-religious.
AMA DEUS HEALING
Ama Deus is an over 6,000-year-old shamanic healing method that utilizes breath and symbols. I was trained by White Waters, the master teacher sent from the Brazilian Amazon by his indigenous teacher to help humans remember their divinity. Ama Deus supports physical, emotional, mental and spiritual healing. Some specific concerns it can assist with are: heartbreak, grief, addictions, preparation of the soul for dying, assistance for the soul as it continues its journey after death, the release of attachments, chakra balancing, newborn baby blessings and birthday blessings. Sessions last 1 hour. The recipient is fully clothed. Ama Deus is non- religious.
EFT
Emotional Freedom Technique (EFT) was originally introduced as Thought Field Therapy by Dr. Roger Callahan in the early 1990's. A powerful blend of Eastern and Western practices, EFT is an active, fully engaged process that involves your tapping on your body's acupressure points. Your words, your beliefs, your emotions, your body kinesiology about your situation form the baseline starting point. EFT can be helpful for just about any situation. It's very effective for anxiety reduction, phobias, and patterns and behaviors that remain stuck no matter what you try to do. The initial session is 1 ½ hours to allow time for teaching the process. Subsequent sessions are 1 hour.
The intention, always, is to assist you to emerge as the fullness of who you really are. Comfort in mind, body and spirit are integral to this accomplishment. Our work together is a collaboration that recognizes that you are in charge of your process at the level of soul.
BARBARA J. WOOLLEY, MSW, has an extensive career in mental health which includes inpatient, outpatient and private practice spanning twenty-five years. Responding to an unstoppable spiritual call, she left her known world in 1999 to travel the globe for the next ten years. She has been privileged to learn from many great teachers who represent a diverse sector of spiritual traditions. Her two primary mentors have been Grandmother Twylah Nitsch, Seneca Elder, and, White Waters, the Brazilian master teacher of Ama Deus. In 2009, Barbara stopped traveling to allow integration of this intense period of exploration. Landing in New London, NH, she wrote her first book, Out of the Box: A Soul's Surprising Journey, which chronicles twenty-five years of lived experience. It's an unusual account of soul retrieval and spiritual learning. After several years as a hospice and home care social worker, her soul pushed, shoved and otherwise conspired to get her back on the road. Barbara was sent on a major pilgrimage which included the Camino Frances in 2018. She is near completion of her second book, which is, of course, about the journey of soul.
- - - - - - - - - - - - -
Fee: $125 per hour, $175 for 1 1/2 hours.
CONTACT
barbjwoolley@gmail.com or call 603-748-5616
with queries or to arrange an appointment.
------------------------
all appointments at
LBI Acupuncture
285 West 8th Street
Ship Bottom, NJ 08008
609-622-8360
http://www.lbiacupuncture.com/
------------------------
https://iwc.massagetherapy.com
The IWC is open all year round for massages.
Call us for an appointment today (609) 492-4906