Stretch & Massage Treatment on the
Beach or Inside on the Mat with Malia
Special price 75 minutes for $75
Integrating Thai massage and assisted yoga postures
with Shiatsu pressure points Relieving Tension & Elongating the Spine.
Sending healing, peaceful intentions to clear stuck energy.
Blending aromatherapy to stimulate and balance the chakras.
Ending with Cranial-Sacral to let go of the mind feeling relaxed and centered.
testimonial from Rita on the Beach
"The ocean, the beach, the breeze, the sounds of the waves mixed with Malia's gentle,
yet strong pushing and pulling of your body, re-calibrating your energy, leaves you with
a sense of peacefulness and relaxation."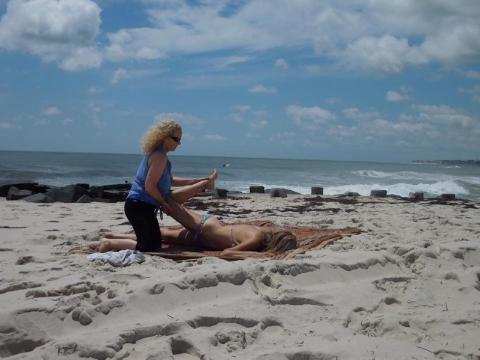 testimonial Amy from NJ - had session on the Mat inside.
"Malia's treatment was like nothing I've ever experienced.
She pinpointed everything I needed.
My body feels stretched and nurtured. I feel all around centered and relaxed."