Stretch & Massage Treatment on the
Beach or Inside on the Mat with Malia
Special price 75 minutes for $75
Integrating Thai massage and assisted yoga postures
with Shiatsu pressure points Relieving Tension & Elongating the Spine.
Sending healing, peaceful intentions to clear stuck energy.
Blending aromatherapy to stimulate and balance the chakras.
Ending with Cranial-Sacral to let go of the mind feeling relaxed and centered.
Testimonials:
From Rita on the Beach
"The ocean, the beach, the breeze, the sounds of the waves mixed with Malia's gentle,
yet strong pushing and pulling of your body, re-calibrating your energy, leaves you with
a sense of peacefulness and relaxation."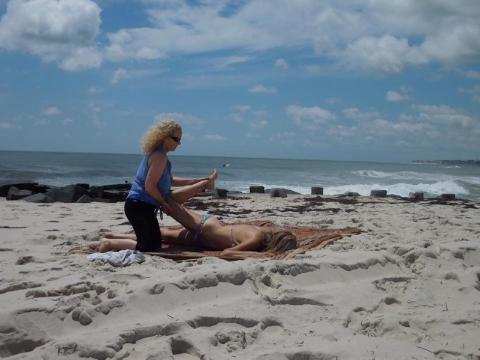 Testimonial Amy from NJ - had session on the Mat inside.
"Malia's treatment was like nothing I've ever experienced.
She pinpointed everything I needed.
My body feels stretched and nurtured. I feel all around centered and relaxed."
Testimonial Tara from NY - Watsu Treatment
"Several years ago I injured my shoulder and neck in a bad acrobatic fall. While most massages are still too much and can re-aggravate the area. Malia Watsu treatment is so gentle and also went so deep it allowed my whole nervous system to fully relax and recover."